The real-time, flexible and comprehensive tracking platform allows users to create and run custom reports that can quickly and simply show trends in tracker behaviour, or detail the activity of any particular sensor.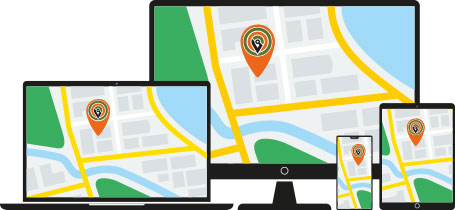 Tracking Platform Features:
We provide the customer with the flexibility to decide how they'd like to receive their tracking service:
Join the thousands of users already enjoying one of the world's top GPS tracking platforms; capable of supporting over 1500 device types and using mapping data from a range of different suppliers.
If you want to enjoy the benefits of a hosted service, but security is a concern; join  Hidden Trackers' own hosting server. Additional security is applied to connections from both the trackers and users.
Hidden Trackers offers you the opportunity to purchase your own server, which can either be hosted in your own premises, or in a secured data centre for a 24/7 managed service.
Support for existing devices
Hidden Trackers offers devices that have been tested, evaluated and found to be reliable and fit for purpose.
If you already have devices installed, however, that's not a problem! The tracking platform supports over 1500 different device types, so it's very likely that you'd be able to use your existing devices with Hidden Trackers.
Hidden Trackers offers competitively-priced AnyNet SIM services which will give your trackers the best chance of getting GSM signal coverage wherever they travel.
If you'd prefer to source and use your own SIM cards, that's fine too! With our Shared Public Hosting you'll be able to use whichever SIM cards you'd prefer. When connecting to our Shared Secured Server, the SIM cards must be connected via a VPN.
Flexible and Comprehensive
Delivered as a cloud and server-based solution where you can configure every parameter, with over 300 monitoring parameters to control and report on.
The tracking platform offers real-time monitoring and analytics to promote cargo, vehicle, and human safety and also enhance fleet performance.
As a result, cargo is safe, employees drive responsibly and excess money is not spent on maintenance.
Free iOS and Android apps
For tracking and control on-the-move, with these dedicated apps you can instantly see locations and history on your smartphone or tablet, as well as issue trackers commands.
Easily and effectively track vehicles, personnel and assets
Users have instant access to trackers' locations and history, and have a number of useful tools to assist in monitoring situations. You can also display cell site information via LBS on-screen.
Contact drivers in case of panic button activation, connection loss, leaving geofence, door opening and other signs of emergency.
Manage your vehicle with commands sent from the monitoring system and shutdown engine remotely.
Recover your assets even if hardware is damaged. Detect location by LBS and radio communications if the GPS antenna is cut.
Create comprehensive, customized reports in seconds
Using simplified dashboards or complex multi-factor reports, you can display useful analytics and historical data extremely quickly.
Fuel usage and driver safety
Calculate fuel consumption in vehicles, specialized machinery, diesel generators, and dispensers. Detect any type of fuel misuse and control the whole cycle of fuel distribution from fi­lling stations to vehicles and machinery.
Create a comprehensive driving quality assessment model speci­fic to your enterprise. The analysis is based on pre-set and custom violation criteria and allows to identify reckless drivers—totally error-free.
Dynamic GeoFences control tracker behaviour and notifications
Be alerted to activity or even control tracker functions via the use of easy-to-draw GeoFences.
Total control of user access to trackers and resources including automated conditional, scheduling
An advanced content management system and automation features allow you to customize exactly how your system is used, and require far less hands-on activity, saving time and money.
Hidden Trackers has tested and evaluated dozens of devices, both fixed-wired and battery-powered, from a wide range of suppliers in order to offer only those which prove to be accurate and reliable.
The Apple logo is a trademark of Apple Inc., registered in the U.S. and other countries and regions. App Store is a service mark of Apple Inc.
Google Play and the Google Play logo are trademarks of Google LLC.